BSD BODYBOARDS Ben Severson T-30 Polypro Core - 2022 Model
$499.95
$424.96
Was $499.95
SAVE 15%!
RRP $499.95
Sale Ends in
or 4 payments of $106.24 with

Info
In Stock
Size Guide
Board Tech Guide
BSD Bodyboards Ben Severson T-30 Polypro Core 2022 Model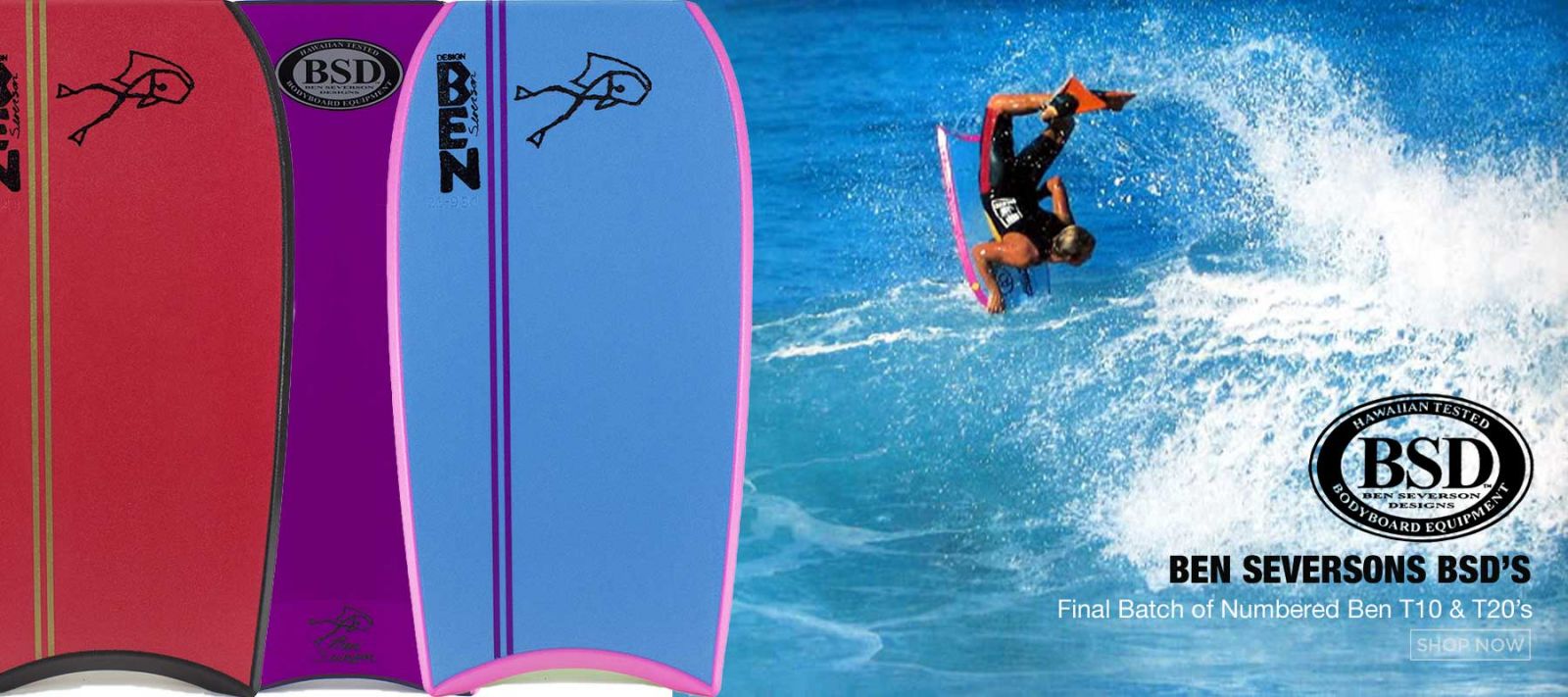 Designed by Ben Severson. This replica of his old BZ Model is as close as you'll get. Super wide template, Extra Wide nose & high wide point make this a unique board in todays market. Add modern day materials & this dream machine is made for Vintage collectors or those re kindling the stoke of old!
This range signifies the final 1000 of these made. This is the Final Run of these! Get in before they are gone for good!
FEATURES
TEMPLATE: T-30
CORE: Polypro Core
Polypro Core is a state of the art engineered bodyboard core. A lightweight core that is fusion formed to create a nucleus that delivers incredible flexural properties,
including instant recoil, added projection, enhanced longitudinal stiffness & awesome compression strength. 100% waterproof
STRINGER: 1 x RCS Stringer
SLICK: Surlyn Slick by DuPont
DECK: Wavecushion Air 8lb PE Deck
RAILS: 50/50 Transitional Rails
TAIL: Crescent Tail
ADDITIONAL FEATURES: Ben Severson Signature Heat Stamp, Deck Speed Stripes, Deep BSD Hull Channels, Individually Numbered
TECHNOLOGY: Tension Tech is a top mesh sub sandwich layer. It consists of a sheet of mesh sandwiched in between the two layers of 1.5mm IXLPP (crosslink polypropylene). This allows us to produce a much thinner core without sacrificing strength, resulting in an incredibly strong board with excellent recoil. Combined with Polypro, this makes an extremely stiff board, perfect for tropical locations. We have been using this technology mainly with PE and NRG boards, allowing us to get the best properties from both the PP substrate, and the softer NRG or PE core.
COLOURWAYS
Pink Deck// Aqua Chine// Aqua Rails// White Slick in 43**
Here's Ben Ripping on this original board
(641080)
| | |
| --- | --- |
| SKU | 641080_641082 |
| Shipping Weight | 2.7500kg |
| Shipping Width | 0.570m |
| Shipping Height | 0.070m |
| Shipping Length | 1.110m |
| Shipping Cubic | 0.044289000m3 |
You May Also Like
$369.95
$314.46
or 4 payments of $78.61 with

Info
$389.95
or 4 payments of $97.49 with

Info