STEALTH BODYBOARDS Speed Dealer 5.0 Bat Tail Vax Trax Polypro Core - 2021 Model
$383.96
Was $479.95
Sale Ends in
or 4 payments of $95.99 with

Info
In Stock
Size Guide
Board Tech Guide
STEALTH BODYBOARDS SPEED DEALER 5.0 BAT TAIL POLYPRO CORE 2021 MODEL
It seems pretty obvious now - Speed and Bat Tails go hand in hand! We've jammed all our Tech into this board, but we think it's got all the right ingredients. We're also loving the combo of the Bat Tail and Vax Trax Rails. While the Bat Tails add some volume and create a bit of "looseness" in the board, the Vax Trax creates the extra hold, you would usually lose with the benefits.
On the bottom, we've gone a slight single concave to provide a bit of lift, which is then funelled through some AKU Shaped parallel channels which should make rail to rail transitions a dream.
If you're not sold already, its got creature comforts to make riding easy including Deck Contours, Deck and Nose Bulbs.
If you're still not sold, check out those top-chine rails!
FEATURES
CORE: Kinetic Polypro Core
Kinetic Polypro Core is a state of the art engineered bodyboard core. A lightweight core that is fusion formed to create a nucleus that delivers incredible flexural properties, including instant recoil, added projection, enhanced longitudinal stiffness & awesome compression strength. It is also 100% Waterproof, ensuring it stays nice and light throughout your boards life. Ideal for anyone in mid to warm climates, and extremely durable for those who surf a lot!
STRINGER: - Single S10 Stringer
DECK: Wavecushion 8lb PE Deck
SLICK: Surlyn Slick by DuPont with Mesh
TAIL: Delta Bat Tail
RAILS: 55/45 Double Rails with Top Chine
CONTOURS: Deck Contour with Deck & Nose Bulbs
REINFORCEMENTS: Slick Mesh
VAX TRAX RAILS – A graduated concave on the bottom rail, starting in the mid-section and becoming more prominent through the tail section of the board. The steepness of the rail combined with the curve allows a greater angle to drive off, decreasing the loss of speed. It allows you to hold a higher line on the wave face, so you now have the tool to run higher, faster lines and steeper angles.
Zero Slot Channels – Slot Channel
The Slot Channel is a large single hull concave named the Zero Slot Hull Channel. This bottom contour is based on the theory of a "planing hull" which as the name suggests, gets you planing earlier and easier, giving exceptional down the line speed off the weakest of sections. A lot of Stealth's inspiration came from the Bob Simmons designed Mini Simmons surfboards, which have since evolved and are evident in a lot of the modern day Daniel Thompson (Tomo Shapes) and Slater Designs surfboards.
Extra's: Top Chine Rail, Hull Concave, Deck Contours, Nose Bulbs, Nose & Tail Bumpers.
Colourways:
Cool Grey Deck// Black Pinline// Black Rails// Yellow Slick in 43"
Menthol Deck// Black Pinline// Black Rails// Black Slick in 42 & 43"
Black Deck// Black Pinline// Black Rails// Black Slick in 42 & 43"
Here's a clip of the Stealth Speed Dealer
(9500132)
| | |
| --- | --- |
| SKU | 9500132_11 |
| Shipping Weight | 2.5000kg |
| Shipping Width | 0.570m |
| Shipping Height | 0.070m |
| Shipping Length | 1.050m |
Be The First To Review This Product!
Help other Bodyboard King users shop smarter by writing reviews for products you have purchased.
You May Also Like
$184.95
or 4 payments of $46.24 with

Info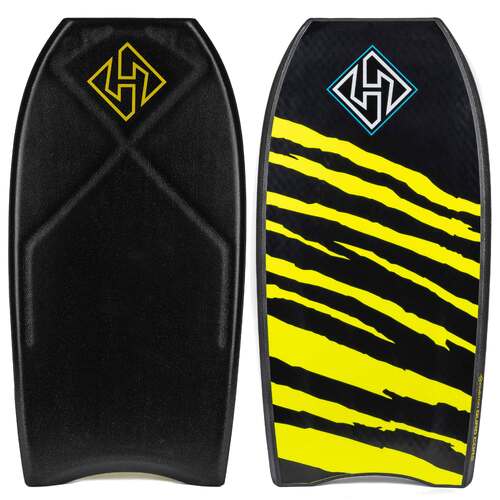 $575.95
or 4 payments of $143.99 with

Info