Science Bodyboards Shred Sled NRG Core Bodyboard 2022 S2 Model

Designed by Mike Stewart, arguably the most respected and well known wave rider of all time, is the man behind Science Bodyboards.
With over 30 years experience riding the best waves on the planet you can be sure you're getting the best board possible when you ride a Science Board.
The Shred Sled template is designed to ride amazing in any conditions. The SSS shape is designed to be super fast with enough curve to control that speed for destroying sections & blasting airs on command. Science has refined their 2021 Shred Sled Series by tailoring them specifically for the micro groms. The ultimate weapon for the next generation.
FEATURES
TEMPLATE: Shred Sled
CORE: NRG+ - 1.3lb Polypro (PP) Core
Developed using cutting-edge expansion cell technology, NRG+ Core is a cool water core specifically formulated to meet key performance characteristics as demanded by our worldwide team of riders. NRG Core gives you an even better mix of flex, recoil, projection and pop.
STRINGER: 1 x EXT Stringer
SLICK: HDPE Slick
DECK: WaveCushion Air 8lb PE
RAILS: 55/45 Double Rails
TAIL: Crescent Tail
ADDITIONAL FEATURES: Quad Vent Channels, Nose Bulbs, Screened Deck/ Slick Print
Tech: Quad Vent Concave
The New Quad Channel Tail combo is a on or off Channel System. It engages when you need it and has a normal ride in cruise mode.The Four Channels are narrow and deep with a flat section in centre to help give you a bit more release when you need it. Push hard on your rail and the quads rip in & hooks in the First and Fourth Channel this allows you to turn sharper and still keep the hold and drive your after.
SHRED SLED FLEX FACTOR - F5
SCIENCE BODYBOARD FLEX FACTOR RATING
You may have noticed your equipment works differently depending on the temperature. The way a board flexes and recoils in warm conditions is different than in the cold.
Your personal preference for what you consider as optimum flex is unique to where you live and what your local temperatures are. To take the guess work out of which of our boards is softer (generally better for colder conditions) or stiffer (generally better for warmer conditions) and to help you dial in flex we have created the Science Flex Factor. F1 being the stiffest composition we make and F10 being the softest.
If the board indicates a F+ then an ISS Stringer is in place (e.g. F3+) the flex rating becomes a +or- depending on the ISS Stringer being used.
- Science Flex Factor System is only relative to the Science Bodyboard Range and should not be compared to any other Brands.
COLOURWAYS
Sea Green Deck// Red Pinline// Red Rails// Yellow Slick
Black Deck// Blue Pinline// Black Rails// Black Slick
* Indicates Quantity Available
Science Bodyboard's Flex Factor Described by Mike
(641942)
| | |
| --- | --- |
| SKU | 641942_641945 |
| Brand | SCIENCE BODYBOARDS |
| Shipping Weight | 2.5000kg |
| Shipping Width | 0.570m |
| Shipping Height | 0.070m |
| Shipping Length | 1.050m |
| Shipping Cubic | 0.041895000m3 |
You May Also Like
$428.95
or 4 payments of $107.24 with

Info
Sold Out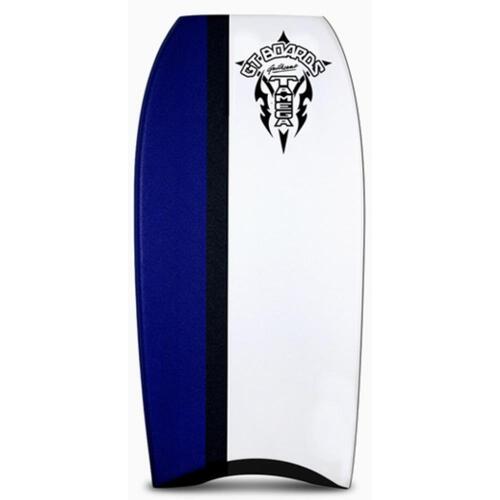 $399.95
or 4 payments of $99.99 with

Info